Usworth Colliery Schools
Early Schooldays
I can't remember much of my pre-school days but I was, apparently, keen to start school. Shirley Nevins, my neighbour, friend and surrogate sister, started school before me and it seems that that was what made me anxious to start. We attended Usworth Colliery Infants' School then later transferred to the Junior School when aged seven.

The only teacher I recall from the infants' school was the headmistress, Miss Gibson. I don't remember learning to read but must have benefited from my mam's attention and encouragement. She enjoyed reading and I recall sitting beside her as she taught me the strategies of jigsaw puzzling. No doubt she helped me to read. I recall going to Miss Gibson's room as part of a small group of children selected to demonstrate our reading ability. A coal fire burned in her room whilst we knelt on a carpet with our books placed on a wooden 'form' ( a bench seat ) in front of us. After having read to the teacher, we were rewarded by being given a sweet from a large jar. I must have been about six years old and felt privileged!

I had what seemed a fairly long walk to get to school including passing through the Miners' Welfare Park. I spent many happy hours in that park with family and friends because it contained swings, a slide, a 'lizzie', a 'spider's web' roundabout, a boat shaped swing and a see-saw. We tried to ensure that we got to the park in time for a ride of some sort before going into the school playground. I have a memory of being knocked unconscious when trying to get off the 'spider's web' in a hurry because we heard the school bell being rung. I believe that part of the metal roundabout struck me and I woke up in school. If my recollection is accurate, I was fortunate not to have been seriously injured.

On progressing to the junior school I was to meet teachers who would have a profound effect on the rest of my life.
The school was streamed with each year group divided into two classes, 'A' and 'B', according to academic ability – not that I was aware of it at first. It transpired that my close friends, Keith Jonas and Alfie Lloyd, were not to be in the same class as me. My first teacher there was Mr Elliott, whose first name, Roger, I was to learn years later. He was interested in football and was probably the first person to notice that I had some ability in the game. He, along with his friend and colleague, Mr Jack Scorer, assisted Mr Frank Forster to run the school football team.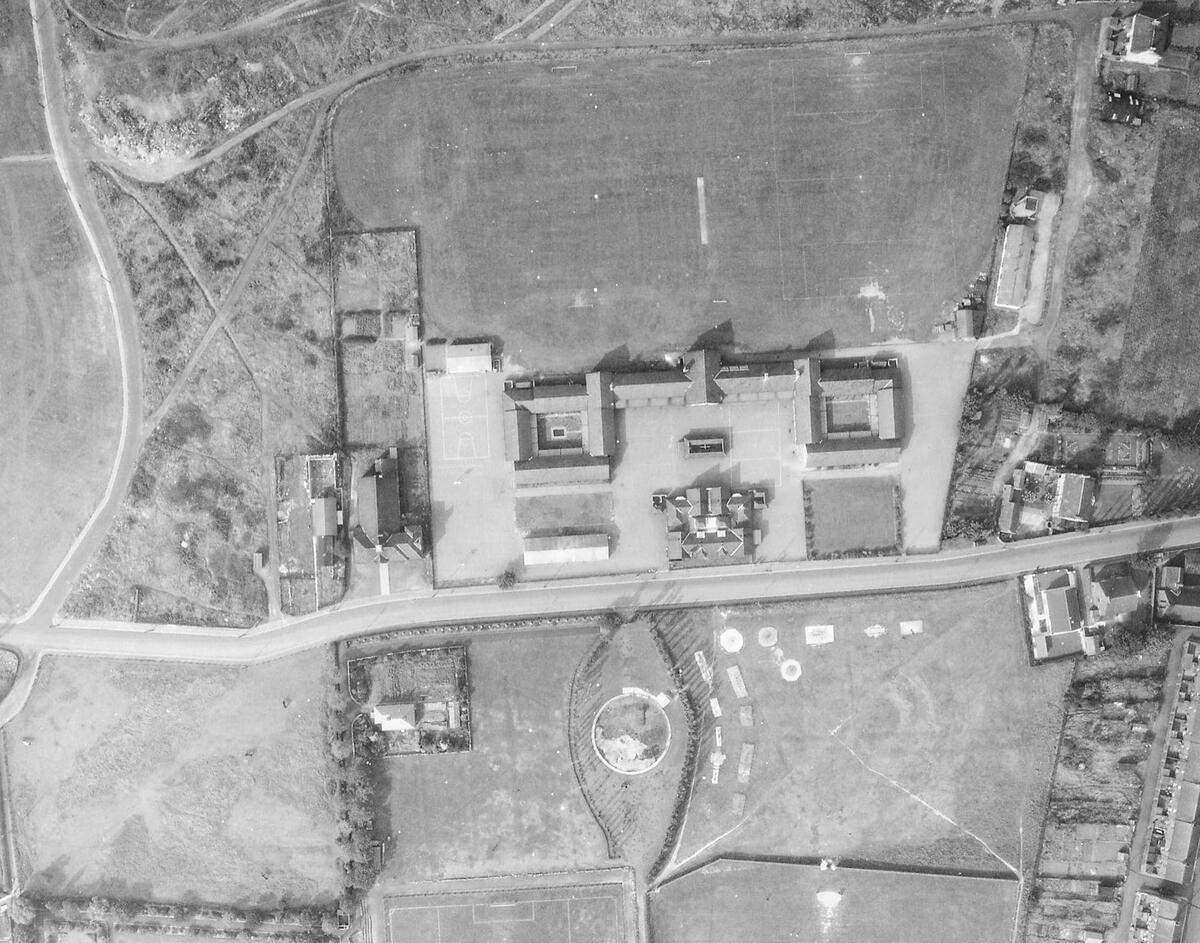 At our school, teachers seemed to be respected by parents and children. If we got into trouble at school and mentioned it at home, we got into trouble again - at home! Discipline was strict. The curriculum was probably limited with the aim of getting as many children as possible to pass the eleven-plus examinations and achieve a place at the local grammar school rather than progress to the Secondary Modern School which was on the same site as the junior and infant schools.

Discipline was maintained by a mixture of harsh words and physical punishment using a leather strap to the hand. Although usually reserved for misbehaviour, 'strapping' might be meted out for producing poor work or having dirty hands. I was 'strapped' only once and feel aggrieved to this day because of the injustice of it. In my first year, aged seven, I was strapped by Mr Elliott for having dirty hands. I had failed to wash my hands because I would have been late for the first lesson of the afternoon having been at football practice after dinner. It was always a rush to take off my football boots, put on and fasten my shoes then wash my hands before the afternoon bell rang. That incident taught me something about the justice/injustice of punishments. I never saw a girl in my class strapped – it was only ever boys!

A year or two later, I watched in awe and disbelief as a fellow pupil, having received one stroke of Frank Forster's strap, refused to hold out his hands for a second stroke. The boy backed away and Mr Forster advanced. No further blows were struck. I thought that the boy would be more severely dealt with later but I don't think that anything further occurred. Frank Forster was small in stature and with a quick temper. He was a formidable 'strapper'. When administering punishment, he insisted that the recipient held out both hands together, one supporting the other. Those 'in the know' assured me that this method was more painful than the usual one hand held out method. Fortunately, I was never strapped by Mr Forster despite being in his class for two successive years. With me, he used another method to maintain his high standards. He threatened that, if my work didn't improve, he would drop me from the school football team. – a fate which, to me, would have been worse than being physically punished. To the boys in his clas, Frank seemed to operate dual standards – being charming and usually in good humour with the girls whilst maintaining a stern and disapproving attitude towards the boys.. He did, however, set high standards for us and kept us working hard. And, of course, I was later to become a member of his teaching staff when he was a head teacher at High Usworth Junior School.

During my final year at junior school, I found myself in Miss Ella Gibson's class. She was strict but warm-hearted and fair and I'm certain that she contributed considerably to my passing the eleven-plus examinations. I remember being an 'ink monitor' and 'paint monitor' in her class. Monitors' jobs were awarded to those of us who could be trusted to carry out given tasks sensibly and competently. Ink monitors were responsible for the filling of inkwells from a ceramic container then taking the wells, in a wooden carrying tray, to each of the childrens' desks each morning. At the end of the day, the inkwells had to be collected and stored until the next day. The desks were of oak and cast iron with holes to place the inkwells in and a groove along the top edge in which to place pens and pencils. These dual desks were arranged in rows facing the blackboards. The hinged seats could be raised to allow children to take up position at their desks. If either pupil needed to leave the desk, both pupils had to stand so that the seat could be raised to allow for exiting the desk. The desks were heavy and close together so they weren't often moved with the result that dust, fluff and various detritus collected under the footrests of the desks and made recovering items from the floor a task to be avoided if possible.

The pens which we used were of wood, about the size of a regular pencil, with metal nibs which were susceptible to crossing and difficult to write neatly with. We spent a lot of time practising handwriting and taking care not to cause 'blots'. Untidy work was generally severely criticised. I was introduced to, and became familiar with, a fountain pen for the first time when I started at the grammar school.
Our classrooms did not contain sinks or a water supply so each room was equipped with two galvanised buckets which were used to transport paint palettes, water pots and paint brushes to and from the washbasins in the cloakrooms of which there were only two – one at each end of the school building. As 'paint monitors', we had the task of carrying used equipment in the buckets to the washbasins where we washed and cleaned everything, including the basins themselves, before returning the art materials to the classroom.
The curriculum at Usworth Colliery School was fairly limited but, no doubt, typical of the 1950s. In my final year there, I think that most of our work, as 'A' stream pupils, was geared towards passing examinations in arithmetic and English. Once a week all of the boys in the year group would have a 'handwork' lesson while the girls had a 'needlework' lesson. We boys worked with the 'B' stream teacher, Mr Joe Allon who proved to have an easy-going approach and we certainly didn't work hard. I believe it took us a whole term to make a small notebook each stage of which seemed to be a painstaking and laborious process and one which I longed to be speeded up. My friends, Keith and Alf, had Mr Allon as their class teacher and they would tell me how easy it was to side-track Mr Allon during lessons and get him to recount his war-time experiences. With hindsight, of course, I realise that avoiding academic work with reluctant learners was probably the teacher's way of maintaining order and some semblance of interest.

Another clear memory from that final year in class 5A, when I was about ten years old, was concerned with what was probably a geography lesson. Such lessons were so rare that I was surprised when a world map was hung on the blackboard before us. Perhaps Miss Gibson thought that we should have a break from English and arithmetic! She asked me to point out India on the map which displayed no words. I hadn't the faintest idea where on the map it might be. Giving me a clue, she said that India was triangular in shape. I looked hard then pointed to what I knew to be a possible answer only to be told that I'd pointed to Greece. I felt ashamed at being unable to locate India but the teacher didn't ask anyone else to point out a country. I believe that, since I was one of the more academically successful pupils, she didn't want to find out how many others had had a too limited educational experience.
A good proportion of my class went on to grammar school and it's strange that, despite that experience, I developed a love of maps of all kinds!

The playground lining up procedure at junior school also tells us something about the emphasis on discipline at that time. When the teacher on duty blew a whistle to announce the end of playtime, all children had to stand perfectly still. Transgressors would be sharply reprimanded. When a second whistle sounded, we moved to form a single file 'class line' maintaining a suitable distance from the person in front by stretching both arms forward to touch the shoulders of that person. We were then instructed to walk into school class by class.

During my four years at junior school the head teacher was Mr Harry Green. Apart from morning assemblies, we saw little of Mr Green. I recall him 'taking' the occasional lesson but it was a rare occurrence. On the few occasions I visited his office, which was up a flight of stairs, he might be drinking from a white pottery mug – a 'pint pot' as they were known. He could always be persuaded, at concerts or other special occasions, to sing, unaccompanied, and with great gusto, 'The Lambton Worm', in a fine local dialect.
John Suggett 2021