Short Back and Sides
Short Back and Sides
Dad regularly cut my hair until I was in my early teens – I rarely went to a barber. Dad had a pair of hand-operated hair clippers – he always called them 'shears' – and had learned to cut hair using the shears, scissors and a comb. He only provided one style – 'short back and sides'. He would sit me on a chair, drape a towel around my shoulders, then cut my hair. He did the same for my brothers when they were old enough for haircuts. If we complained that he'd taken off too much hair, he'd tell us that there were only three days between a bad cut and a good one!
Dad had a large garden which was situated just a few yards/metres from our house across the back street. He grew vegetables there. At one end of the garden, he built a pigeon loft, or 'cree' as it was called in our community. He raced pigeons – it was his main hobby – and spent many hours tending to his birds. Occasionally, and usually on a Saturday or Sunday morning, when he was cleaning the inside of the cree with a scraping tool and a broom, a flat-capped miner, a neighbour and workmate, would saunter down the garden path towards dad.
"Aa reet, Jackie?"
"Aye…aa reet, 'Tracker'?"
"Jackie, will thuh gi' mi' hair a trim?"
"Aye…come back in half an hour."
I would be sent home to fetch the shears, scissors, comb and a towel. On my return, dad would turn a metal bucket upside down and place it where he intended to cut hair. He'd place a short plank of wood on the bucket to form a seat for the prospective 'customer'.
Once dad had made a start, it wouldn't take long before another flat-capped workmate would be ambling down the path.
"Aa reet, Jackie?"
"Aye aye, 'Tot'."
"Jackie, would thuh gi' mi' hair a trim when thu's finished wi' 'Tracker'?"
Aye, hev a seat there," dad would say, pointing to a place on the wooden platform attached to his cree.
Whether the word had got out that Jackie was cutting hair, or if he was seen by eagle-eyed folks on our street, I don't know, but he could soon have a queue waiting for haircuts. I don't think that he ever took money for providing haircuts yet he would gently chide me when, in later life, he saw me marking books or preparing lessons in evenings or at weekends, by saying, "Anyone can get work for nowt!", meaning that, if you did work for no reward, there would be lots of people who'd take advantage of you.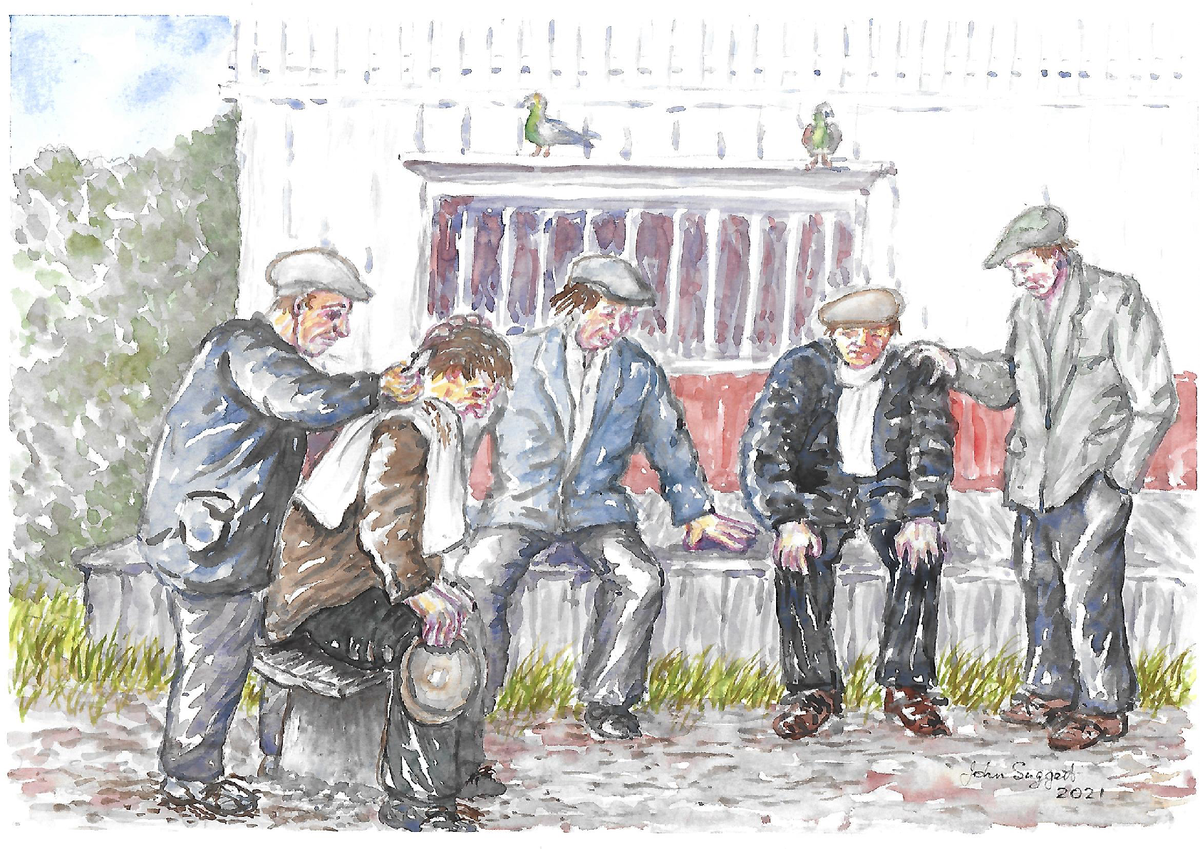 Dad was a generous man. He liked to use his hands and would put them to many uses. He owned a 'last' which he used in the repairing of leather-soled shoes. He'd cut and shape new soles from leather then nail them to the uppers. He bought a second-hand, treadle-operated fret saw so that he could make doll's houses, model forts and castles, toy garages and jigsaw puzzles which would be given as birthday or Christmas presents.
John Suggett 2021