HMS Sarabande
Washington's Adopted Warship - HMS Sarabande
During 2014 Washington History Society members were informed of the existence of a plaque, found in the storeroom of Washington Village Library when it closed. The plaque, featuring the Washington Coat of Arms, was inscribed "To commemorate the adoption of HMS Sarabande by the citizens of the Urban District of Washington. Warship Week 1942"
Research by members of the History Society revealed that between 1941 and 1942 the Government introduced the concept of National Savings. Each region was given a monetary target to be achieved based on population. This later became known as Warship Week, with the aim of funding the building of Royal Navy ships. Large towns and cities would adopt Battleships and Aircraft Carriers, while smaller towns and villages would support smaller ships such as Destroyers or Armed Trawlers. Once the money had been raised, the community would adopt the crew. Churches, charity organisations and schools provided knitted gloves, socks and balaclavas. School children were encouraged to to send postcards, and crew members were invited to visit their sponsor town or village. In the case of Washington it was decided that funding an Armed Trawler would be an appropriate target.
The ship chosen was HM Trawler Sarabande, a "Dance" Class Armed Trawler (Sarabande was a Spanish dance of the 1500s), which could be used for patrol, minesweeping and anti-submarine duties. School children were asked to collect pots and pans to be sold for scrap, and money was also raised through a Warship Week programme of dances, concerts and whist drives- see the attached programme for the week of 14th to 21th March 1942. A total of £57,000 was eventually raised for the Sarabande by Washington residents. The plaque in Washington Library which commemorated the achievement, was presented to Washington Councillor William Haslett, by Sarabande's Commander, GF Bradshaw, DSO.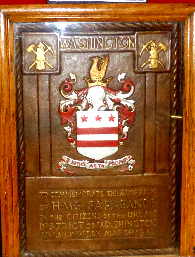 Very little is known about HMS Sarabande's wartime activities, but it is known that she operated off the coast of West Africa, escorting merchant ships and screening them from air and submarine attack.
This Class of 20 trawlers was ordered on 9 September 1939. Somewhat smaller than previous classes they were all completed as Minesweepers. There was only one wartime loss, Sword Dance, and the remaining vessels were put up for disposal after the war. Three were transferred to the Italian Navy, two to the War Department, and the remainder were sold as commercial vessels at home and abroad.
Class information:
Displacement: 300 Tons
Measurements: 160ft overall, x 27ft 6ins x 10ft 6ins
Engines: 1 Shaft Reciprocating (VTE) 850 IHP
Speed: 11.5 Knots
Complement: 35
Vessels in Class:
Cotillion, Coverley, Fandango, Foxtrot, Gavotte, Hornpipe, Mazurka, Minuet, Morris Dance, Pirouette, Polka, Quadrille, Rumba, Sarabande, Salterelo, Sword Dance, Tango, Tarantella, Valse, Veleta.
Attached is a photograph of a sister ship, HMS Tango in its wartime configuration.
The above information was posted on the Washington History Society website, and in May 2015 we received the following response from a reader in Tillsonburg, Ontario Canada -
"I came across your website about the Sarabande, and I have some information to share with you about the ship and its eventual fate. During the War it was based in Freetown, Liberia and participating in convoys from there. After the War it was sold to a Norwegian company, and in the Spring of 1949 it was purchased by a group of Latvian refugees in Sweden who were desperate to get as far away from the Russian Communists as possible.The ship was refurbished in Goteborg, Sweden, and in July 1949 set sail for Canada with 254 Latvians, Estonians and Poles, plus a few other nationalities on board. At that time I was 9 years old and my step-father was a boatswain on the Sarabande in exchange for a free passage for him, my mother, my younger brother and me. After a difficult crossing of the North Atlantic we arrived in Halifax, Canada at the beginning of August and were promptly interned by the Canadians for 10 weeks, before being allowed to enter the country. A few years ago we had a reunion of the people who came over on the ship, and some of us have done some research on the eventual fate of the Sarabande. She was sold in 1949 to pay the fines of the chief organiser and the Captain, $400 each for bringing illegal immigrants into Canada, and eventually ended up in the mercantile trade on the Great Lakes and the Caribbean until sometime in the 1980s". The photograph is of HMS Sarabande after the war.
Further, more recent research by a former Canadian Coast Guard Captain, suggests that the Sarabande was sold to the Guard Salvage and Wrecking Co, Halifax in 1950 and renamed Guard Mavoline. She was rebuilt as a cargo coaster, and her superstructure rebuilt aft. The attached photograph show the ship as the Guard Mavoline, after her conversion.
The ship operated as a small coastal vessel working in the Maritimes and on the St Lawrence River. In 1967 she was sold to Rail and Water Terminal, Quebec and records show that in the early 1970s she was transporting Iron Ore and Aluminium on the St Lawrence. In 1973 she was sold to Mexican owners and re-named Superior Mexico.
There our trail ends, but if any reader has any further information about the ship's subsequent career or wartime activities, please contact Ernie Guy at Washington History Society.