Supporting Sunderland AFC
Supporting Sunderland AFC
The first professional football match that I can remember watching was at Roker Park, the home ground of Sunderland Association Football Club. I must have been about eight years old because I recall being asked, at school, to write about the person I would most like to meet whilst in my first year at junior school. I wrote about wanting to meet Stanley Matthews who played for Blackpool in that first match at Roker Park. My admiration for Matthews and the Blackpool club continued and they became my second favourite team after Sunderland.

My dad had taken me to that first match and he next took me to Redheugh Park to watch Gateshead playing against Lincoln City in a Third Division North match. The attraction for my dad was to see the Lincoln centre-forward, Andy Graver, who had scored six goals in one match that season against Crewe Alexandra in September 1951. I vaguely remember travelling to Redheugh Park by 'bus and tramcar then sitting on a metal rail attached to a barrier at the side of the pitch. The next time that I visited that ground was as a player in an under-18 youth team.

I can't remember much more about watching football until a couple of years later when Sunderland signed Trevor Ford and Ray Daniel, both Welsh international players. Ford presented my school team with trophies at a special tea following a very successful season. He was a bustling type of centre-forward whilst Daniel was a centre-half replacement for Fred Hall who would be best described as a 'stopper' – no finesse! He played in the team when I began watching regularly and I recall Johnny Mapson as goalkeeper with an Usworth man, Jackie Stelling, at right-full-back'. I was taken to some midweek evening floodlit games and recall watching a pre-kick off ball-juggling display by Yeso Almalfi of Racing Club of Paris. East Fife were visitors on another occasion but the most impressive display that I ever saw was by Dukla Prague when I was captivated by the close passing and support play that their players demonstrated.

I don't remember how old Keith Jonas and I were when our parents allowed us to go to Sunderland's home matches ourselves but I recall catching a Northern General Transport 'bus, either a number 22 or 64 would do, at a stop near our homes at about one o'clock on a match day. The 'bus would get us to the Wheatsheaf public house at Monkwearmouth about twenty minutes later and a ten minute walk from there would get us to the ground as the doors to the grandstands were being opened. By arriving early, kick off was at 3pm, we were ensured of a good vantage spot from which we had an uninterrupted view from the upper tier of The Clock Stand.

We usually tried to leave the ground between five and ten minutes before the end of the game so that, by running most of the way, we could get a good place in the queue for a 'bus home. A few 'football special' 'buses were laid on from Monkwearmouth to Washington but, if we failed to get on one of them, we would face difficulty in getting onto an ordinary 'service 'bus' carrying shoppers from 'the town' ( Sunderland ). Leaving the ground early sometimes caused us some grief because we missed 'late goals' and exciting finishes to games. On one occasion we left ten minutes from full-time in a match against Charlton Athletic with the score at one goal each. Someone ran past us saying that, when he left the ground, the score was two-one. Someone else ran past saying that the score was 2-2. We were distraught in the 'bus queue when told that the final score was 3-2 to Sunderland!

I watched some fine footballers during the 1950s and 1960s but one in particular, Charlie Hurley, a young centre-half who transferred to Sunderland from Millwall, stood out. He was a completely different centre-half to those I'd seen before because he wasn't the typical, so-called' stopper', who tackled hard then 'booted' the ball upfield often aimlessly. Hurley tackled hard then, having won the ball, passed it accurately to a team mate or, at times dribbled past an opponent before passing the ball. Initially, Hurley was not appreciated by the home supporters – they doubted him, saw him as a risk taker – but I loved his style. He did what I wanted to do and, since he played in my position, I tried to emulate his style. Charlie Hurley eventually won over the fans and he became one of the club's most revered players of all time.

In those days, Sunderland was a well-supported First Division club and the ground would be 'packed' for most games with supporters travelling to the ground from many pit villages in the vicinity. Sometimes, getting out of the ground before the final whistle, as Keith and I liked to do, was impossible and I remember, on several occasions, being 'carried' along by the crowd. One day I recall losing contact with the stairs as I was coming down from the upper tier of The Clock Stand and moving down a flight of stairs without touching a single step. On another occasion, I was swept towards a large television Outside Broadcasts van which was parked between the Clock Stand and the Fulwell End of the ground. I had watched the game to the end that day and got caught up in the crowd surging out. I felt sure that I was about to be crushed against the van because of the severe pushing from behind me but the crowd surging from my left forced me away to safety.

I have many marvellous memories of football at Roker Park but I'll recall here only a few that spring to mind as I'm writing (in 2020). Joe McDonald, a Sunderland left-back, making one of his high, 'floated' back-passes to the goalkeeper without looking, causing Johnny Bollands to make a leaping, diving, acrobatic save by pushing the ball over the crossbar. Ronnie Allen, West Bromwich Albion's centre-forward, 'smashing' a penalty kick into Sunderland's goal via the underside of the crossbar. Billy Elliott, at left-back, grabbing Everton's Brian Temple by the V-neck of his shirt and tearing it wide open, following a touchline dispute. Brian Clough, near the half-way line and facing his own goal, volleying a long pass from a defender to his outside-right's feet, then turning to sprint towards the opposing goal ready for a return pass. Charlie Hurley, running from the edge of the opponents' penalty area, soaring to meet an attacking corner or free kick with his head whilst fending off the attention of defenders. Jimmy Montgomery, Sunderland's goalkeeper, 'scuffing' a goal kick to the feet of Bobby Charlton who controlled the ball instantly then scored an equalising goal for Manchester United in the dying minutes of an FA cup-tie which Manchester won in the replay.

The Clock Stand was a fairly low, roofed grandstand which, when full of vociferous supporters, created a loud, hair-raising, echoing sound. Two cup-ties stick in my mind regarding this effect when that stand was filled with opposing supporters. Everton fans insistently chanting 'EV-ER-TON' was a wonderful, almost intimidating experience whilst Manchester United fans, seemingly orchestrated, in their chanting of 'U-NI-TED' which must have been started in two parts so that it sounded like 'U-NI-TED-TED' and continued for what seemed a long time.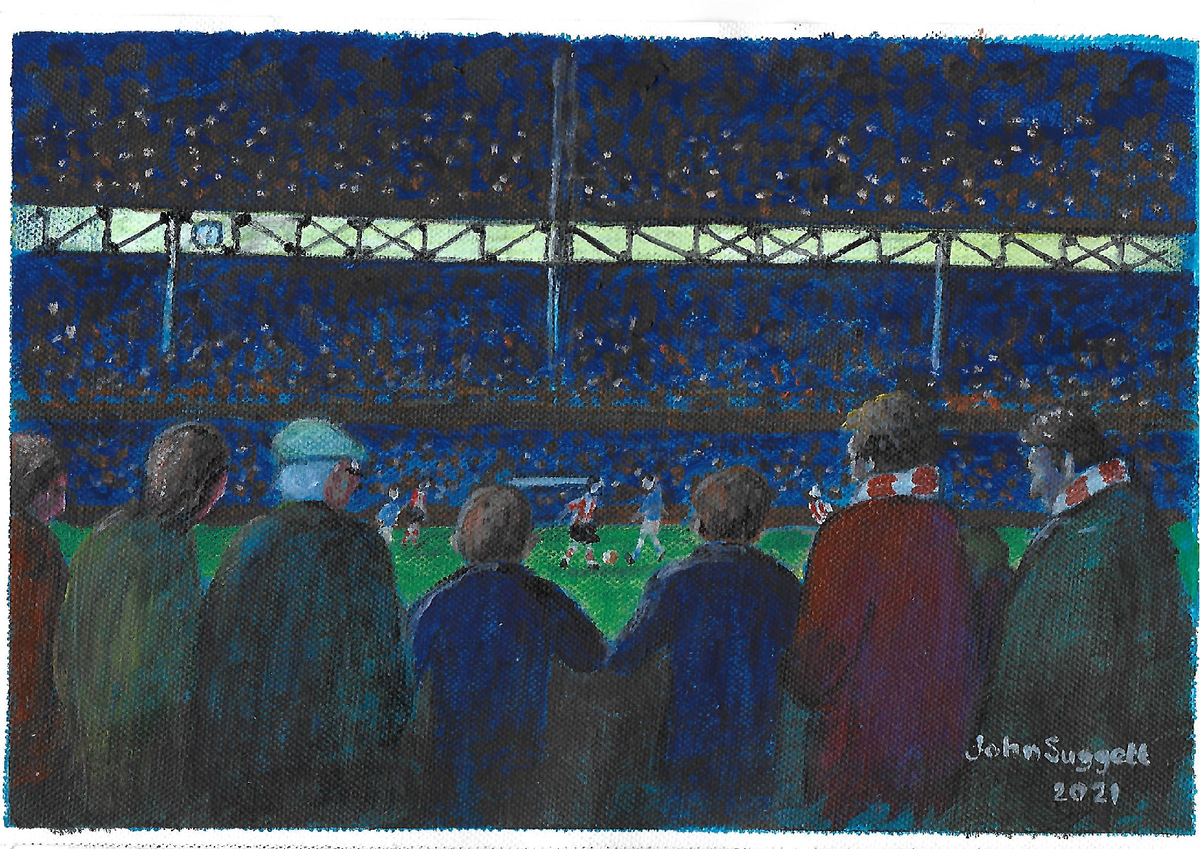 I was able to attend Roker Park for the visits of Luton Town and Manchester City in the 1973 FA Cup run which took Sunderland to the Wembley final where they beat Leeds United by one goal to nil, a match that I was fortunate enough to attend.

My attendance at Roker Park began in the 1950s and continued intermittently because of my own playing and coaching activities until the 1980s when I moved to Nottingham. I've been fortunate in being able to watch many exciting games and talented players but, perhaps, the most rewarding thing is to have had the opportunity to watch my brother Colin playing in the Sunderland first team and, later, in a visiting West Bromwich Albion team. Colin played in successive FA Youth Cup finals at Roker Park in 1966 and 1967 whilst my brother Alan played there in the winning Washington Grammar School team in an England Schools' FA Cup final in 1970.
My first visit to Sunderland's Stadium of Light, which replaced Roker Park, was with my friend Colin 'Pop' Rutter. The game, against Fulham, began as falling snow developed into a blizzard which brought about the abandonment of the match so leaving me with another unforgettable experience in my support of Sunderland AFC.
John Suggett 2021