Street Cricket and 3 Pins
My best friend, Keith Jonas, and I played cricket against Mr Hunter's garage doors at Johnson Terrace if there were only the two of us playing. However, if we could persuade others to play, we set up a game at the end of the street in the space between the gable ends of the terraced houses.
Two dustbin lids, balanced on bricks, were set up as wickets. The ball was often a tennis ball or similar sized rubber ball or a 'spongey' (our name for a ball the size of a tennis ball yet more solid and with a 'squeezy' consistency which made it bounce well).
Local rules for our street-end cricket included batsmen being given out if a fielder caught the ball one-handed if it had rebounded off a gable end wall. A hit directly over the garden fence which was situated a few yards behind one wicket was awarded six runs but the batsman was also given out. The first of the rules led to some remarkably skilful catching whilst the second was aimed at reducing the number of stoppages to search for the ball struck into the gardens and it also reduced the likelihood of the game being abandoned because of a lost ball or because of the anger and threats of the gardener whose produce was liable to be damaged by careless 'cricketers'.
We became adept at quickly removing brick and dustbin lid to allow vehicles (often horse-drawn carts) access to our back-streets, or back-lanes as they were often called. There wasn't a vast amount of traffic in the 1950s but, being an area where most of our dads were coal-miners, there were regular deliveries of coal deposited outside coal-houses. A number of vendors such as fishmongers and 'rag and bone' merchants turned off the main road to gain access to our back-lane by way of our cricket pitch. Steaming horse dung was swiftly removed from the 'pitch' with shovel and bucket and taken for use on vegetable plots.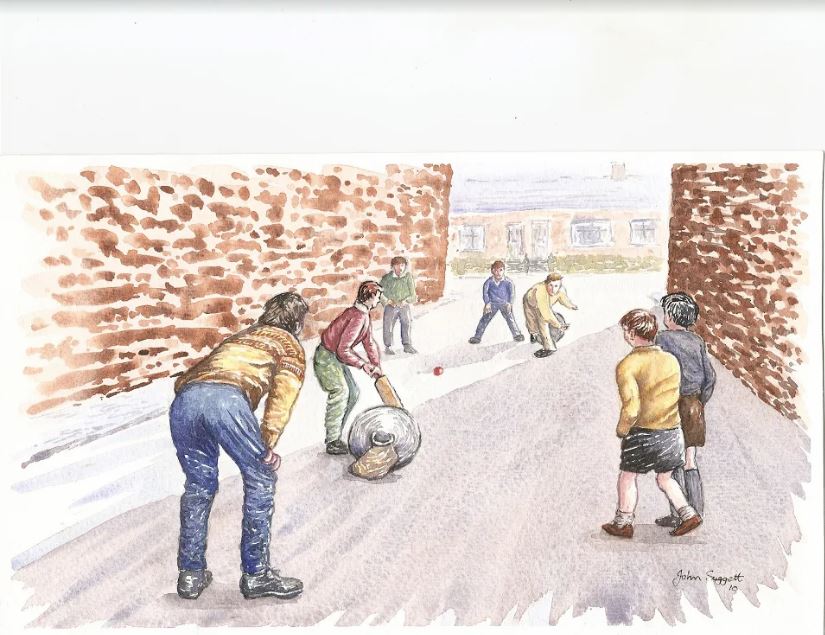 There were some near-accidents on the main road when the more reckless among us chased a ball onto the road without looking for traffic. Keith was a fast runner and he was also adept at 'nipping' between vehicles to retrieve the ball. He did, however, take some awful risks. Sometimes the ball would be struck by a passing vehicle and, if it was knocked down the hill towards Gladstone Terrace (a block away), a lot of runs could be taken - there was usually no limit, batsmen just kept running! - before an exhausted fielder returned with the ball.
Of course, we never thought to use chalk to mark batting or bowling creases so there were many disputes about run-outs or stumpings whilst Leg Before Wicket appeals were inevitably challenged. With no umpires, such disputes had to be settled by the 'three pins' method. This involved the batsman challenging the decision holding his bat so that the end of the handle was in contact with the ground and positioned in front of the wicket. The batsman was not allowed to move his bat whilst the bowler was allowed three attempts to bowl the batsman out. If the three attempts failed, the batsman continued his innings. Most of us accepted being out after this procedure but some, convinced that the original appeal was wrong, would throw down the bat in disgust before resuming the game as a fielder. A few, really bad losers, after being given out this way, refused to field or 'bucky- out' as we called fielding then. A refusal to 'bucky-out' could lead to a ban on taking part in future games.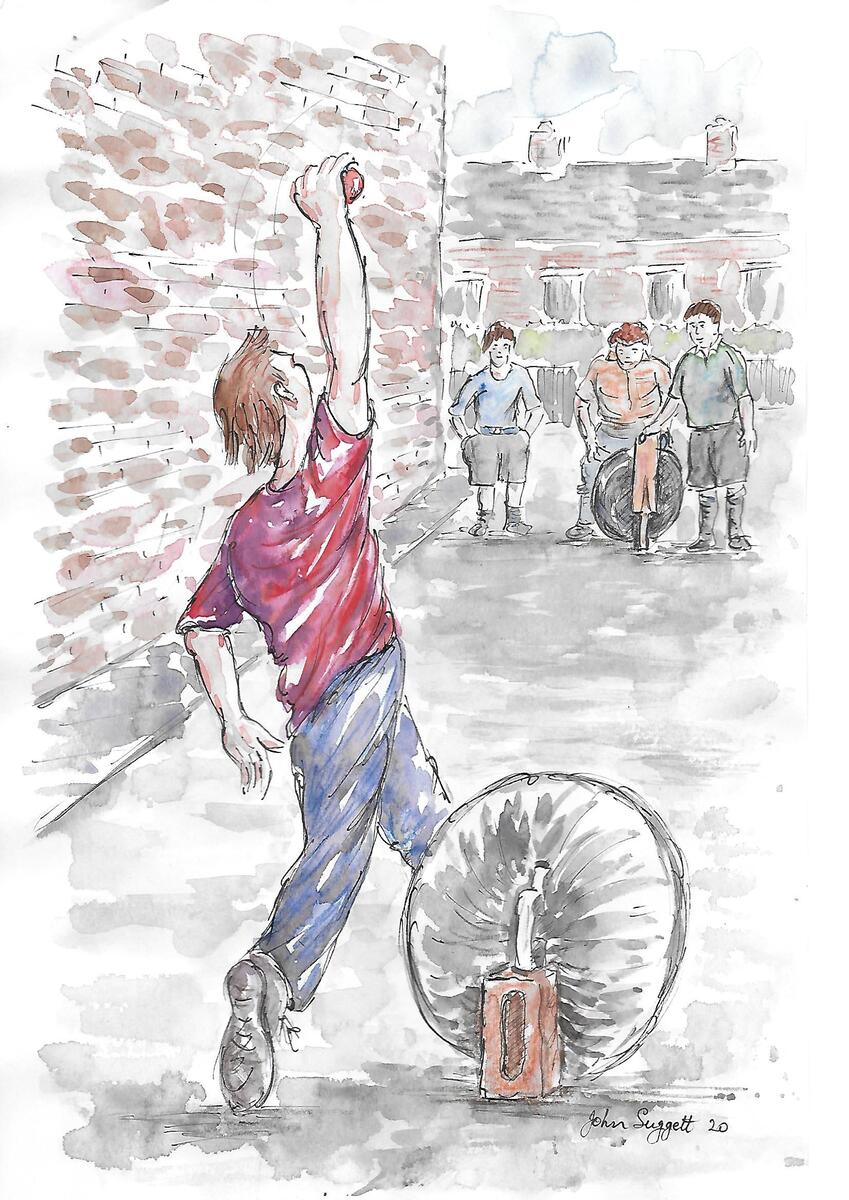 My brother-in-law, who was raised in Craghead, tells me that they had a similar procedure to our 'three-pins' but, in their version, the bat was held in the normal position, handle upwards, so favouring the batsman whereas our version favoured the bowler. Their version was called 'standing your treacles'.
Street cricket, like street football allowed us to be involved as much or as little as we liked and helped those of us who loved it to develop skills and techniques which weren't coached but relied on enthusiasm, trial and error, imitation and practice.