Nissan Visit April 1981
November 1980
Nissan Manufacturing offer to buy the British Leyland Ghent plant in Belgium was rejected by the British Government, but an invitation was made to the company to locate a plant in Britain.
Ex-minister and ex Chair of British Rail, Lord Marsh, was appointed as Nissan's UK representative.
The North East Development Company (NEDC) representative made contact with Nissan in Japan; the first by any British regional organisation.
January 1981
Nissan agreed with the UK Government to construct a plant capable of building 200,000 vehicles a year.
Consultants for Nissan issued a site selection questionnaire to UK strategic authorities, including Tyne and Wear County Council. It's key requirements were a site 800 acres with a flat aspect and the necessary ground strength, publicly owned with necessary planning status, and availability by the end 1981.
It was agreed by all the authorities of Tyne and Wear that Sunderland Airport was the best site, and that Washington Development Corporation, as most experienced negotiator with inward investors, would coordinate the response at its headquarters, Usworth Hall. An officer negotiating team was assembled; two from Tyne and Wear County Council, two from Sunderland Borough Council and three from Washington Development Corporation.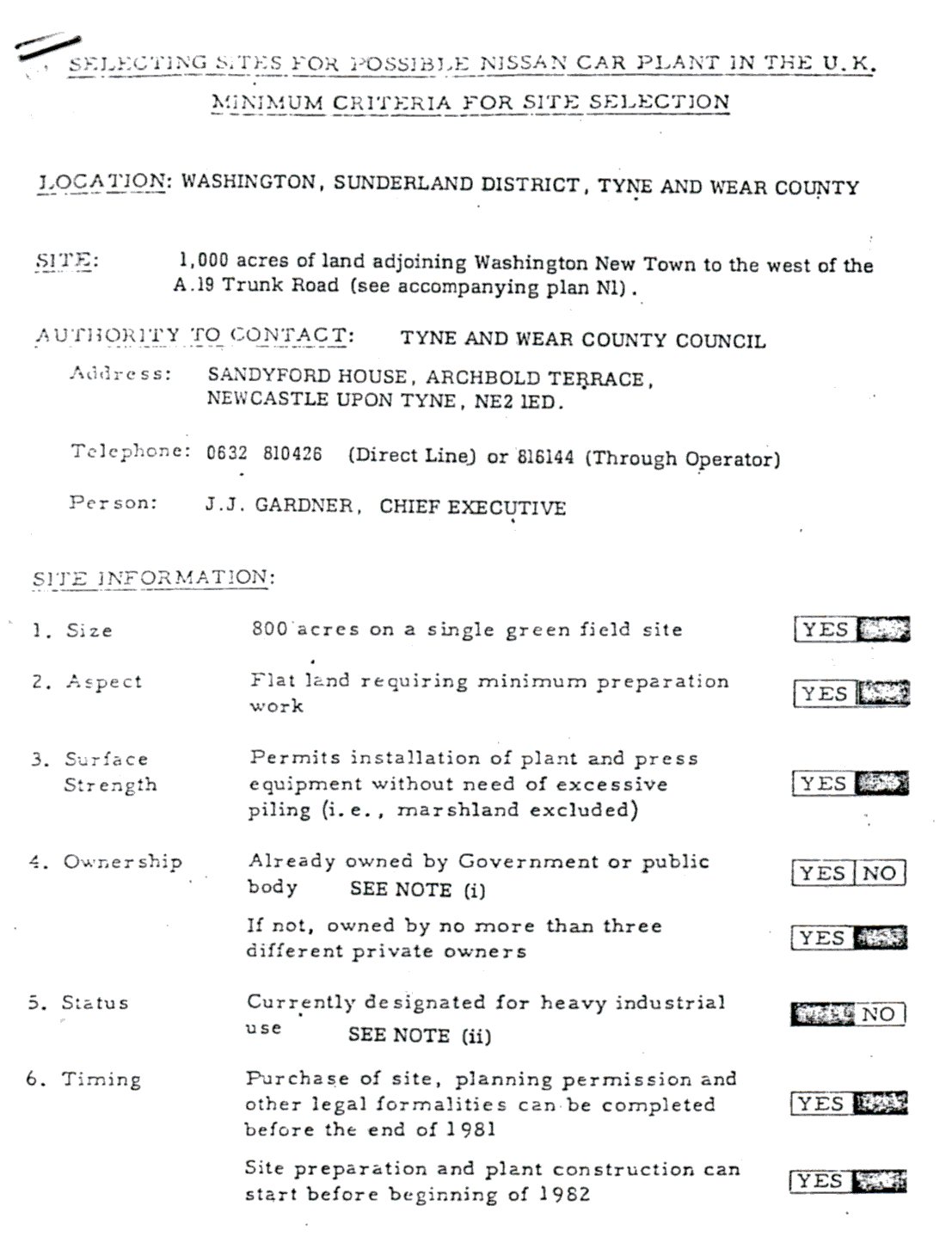 February 1981
124 sites from all over the country were offered to the company, and Nissan reduced those that would be examined further to fifteen and then to eight.
March/ April 1981
The Nissan site selection team started a tour of sites in South Wales, North Wales, Humberside and the North East; Eaglescliffe and Sunderland- the last before their return to Japan. All had Special Development or Development Area status; a condition set by the government in order received financial assistance from public sources.
Friday 24 April 1981
The visiting team consisted of the Nissan site selectors (6), the Invest in Britain Bureau, local Department of Trade and Industry officers and NEDC. They arrived from the County Hotel, Durham, at a snow-covered airfield- an overnight dump that had not been forecast! They were met by Jim Gardner Chief Executive of Tyne and Wear County Council, Geoff Key Chief Executive of Sunderland Borough Council (the owners and operators of the airport) and Bob Tilmouth Chief Executive of Washington Development Corporation.
The team was hosted at Usworth Hall, joined by the other negotiators, including Ed Robson Chief Planner and Project Coordinator of Washington Development Corporation.
A formal presentation was made; the first word-processed version ever in the north east to inward investors. It's 79 pages, maps and illustrations, and much larger technical appendices included:
The site- size, location, ownership, landform, utilities, access and planning
Communications- road, rail, air, sea, customs and excise, and public transport
Financial Assistance- national and local
The Workforce- catchment, age, employment and unemployment, wages and salaries, labour relations and trade unions, and education and training
Local Industry
Housing
Social and Leisure facilities
At appropriate points discussions included representatives of the utilities, British Rail and the ports of Tees and Tyne.
Discussions had taken place from 9:30am to 3:30pm, with a break for lunch in The Stables; the Corporation's on-site restaurant. During this and other breaks I replaced pages in the presentation to reflect what had been discussed- another first!
At the finish Nissan left a 13 page questionnaire, which was answered in 24 hours with additional details and cross-references to the tabled submission.
After April 1981
Silence! It wasn't until July 1982 that Nissan formally announced a postponement of the project, and December 1983 when it recommenced.
There followed intense negotiations in Washington and London before Nissan choose Sunderland in March 1984, and car production started in July 1986. But this success all hinged on that very first positive visit 40 years ago.
Ged Parker
Washington Development Corporation, Nissan Negotiator 1981 to 1984