Home Life
Washington-born John Suggett has contributed many of his excellent illustrations to articles he has written for the History Society, including Sent in wi' the big lads, the Memoir's of Jim Tatters, and Washington New Town Juniors Football Team.
Now he provided a series of his memories growing up in Usworth Colliery, beginning with his family life in Johnson Terrace, with his stories and sketches of Back Street Games now in their own folder.
13 Johnson Terrace
I was born on 13th July, 1943 at 13 Johnson Terrace, Washington (actually Usworth, though I didn't know it then), County Durham, to John and Jessie Suggett – my mam and dad. In those days, most children were born at home with the care and attention of a midwife. A hospital birth usually indicated complications.
My father was a coal miner. He worked at Usworth Colliery which was about a mile and a half from home which was a rented ground floor flat in a street of similar homes rented mainly by miners. The house never seemed small to me though, by comparison with what I came to live in later, it probably was small. It consisted of a room where we lived and ate, a scullery (a small kitchen) and two bedrooms. The outdoor toilet and coal-house were 'across the yard' and there was an outhouse containing a set-pot (a coal- fired boiler for heating water). We had no hot water system in the house – water had to be heated using kettles, pots and pans. My mam never used the set-pot as far as I can recall. Apparently, after I was born, my parents bought a gas boiler to heat water to wash nappies in the house. A coal fire in the living room was the sole source of heating, though there was another fireplace in one of the bedrooms which was only used when someone was ill and needed extra warmth. We had no bathroom. Our metal bath (probably made of zinc) hung on a sturdy nail on the outside wall near our back door. The bath was placed in front of the fire on bath-nights and I can remember, occasionally, being lifted onto the dining table cocooned in a towel and being dried by my mam.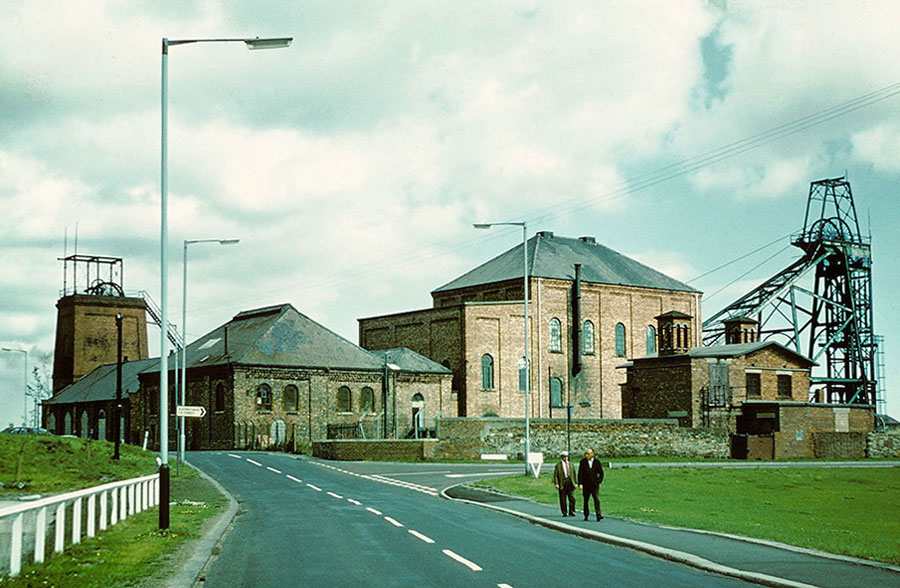 The back yard was concreted and was a place for mam to hang washing and 'beat' rugs. It was also a place for us to play.
Buckets had to be filled with coal and carried indoors to fuel the fire. In winter, there were occasions when we had to break ice in the toilet to allow it to flush. Sometimes, when the weather was severely cold, a bucket - pail- was provided so that we didn't have to go to the toilet in the dark and cold.
Beside the coal house, a full-sized wooden gate allowed access to a the back lane or, simply, the lane. It was about four to five yards/metres wide with wooden railings opposite the houses and giving protection to the long gardens in which our fathers cultivated vegetables, reared chickens, hens, rabbits and, in my dad's case, racing pigeons. The back lane and the street end nearest our homes were our main playgrounds. We played football, cricket, hidey-bo-seek ( hide and seek ),cannon, hot rice, montakitty, cocksarooser and other games. We rode on our bogies and, I'm sure, generally made a nuisance of ourselves.
Miners had coal delivered to their homes by wagon about once a month – this was a part of their pay from the National Coal Board (NCB). The coal – about a ton of it, I believe – was dropped in a pile in the back lane outside the appropriate coal house hatch which was a small, removable, wooden door set into the brick wall so that it gave access to the coal house or bunker. The coal had to be shovelled (or 'shuld', as my dad would say) through this hatch into the coal house and this task had to be carried out by our fathers – sometimes on returning home after a shift or before going to work. It couldn't be left outside indefinitely because it could have been stolen. To us kids, coal deliveries meant restrictions on back lane games. Sometimes we accidentally disturbed the piles of coal and didn't realise how annoying that must have been to our dads when they came to shovel in the coal. As the coal was thrown into the bunker, pieces of stout timber, slightly wider than the coal house door, had to be placed so that coal would not spill out into the back yard when coal was collected for the fire.