Junior School Football
Junior School Football
Keith Jonas and I used to walk to junior school together every day. We were, out of school, almost inseparable. We played outdoors and indoors, talked, ate and laughed together. Our parents knew, almost for certain, that where one of us was, there would be the other. The fact that we were in different classes throughout school never affected our friendship. We did, however, eventually and unfortunately, drift apart to some extent when our secondary education took us in different directions.

Keith and I would carry our precious football boots to school each day. Keith's boots would be knotted together so that he could carry them slung over one shoulder. I carried mine with the laces wrapped around one hand. Football practices took place after dinner on most days and Keith and I had been told to join them. At that time, none of us had football strips apart, perhaps, for a pair of socks – mine were a pair of red and white hooped socks which had been hand-knitted by an aunt of my mam's. We all wore short trousers. Practice was mainly a game between two teams where one team wore coloured braids across the body from one shoulder. Keith and I must have been involved from our first year at the school as seven year olds and we were both selected to play for the school team in our third year. The team usually comprised only of fourth year boys and Keith and I were the only third years in the team which started the 1952-53 season with a game against Elisabethville Junior School on the Birtley Welfare ground. We played on a 'full-size' pitch and I remember thinking how big it was compared to our own school pitch. Keith played at right-half-back whilst I played at inside-right. (These positional names are now obsolete in 2020 when I'm recording these notes!) The team captain was Andy Storey who proved to be a prolific goal- scoring centre-forward at every level at which he played. That day, however, the only goal of the game was scored by our left-half-back, Billy Geddes and I believe it was his only goal of the season.

Our home games that season were played on the 'senior school' field where we occasionally practised. It was an uneven, stony field with lots of bare earth. On Friday afternoons before home games, Keith and Alfie Lloyd would be sent with a wheelbarrow to fetch sawdust from the colliery whilst a 'squad' of boys, under the guidance of Mr Forster, walked the length of the field gathering pebbles and stones which were put into galvanised buckets before being dumped near railings at the side of the field. Frank Forster would be using string and tent-pegs to indicate where touchlines, etc. should be placed. When the sawdust arrived, he showed us how to sprinkle it over the strings to form the pitch markings.

In a game against St Joseph's (the 'Joes'), one of their players was injured and had to be carried from the pitch with a suspected broken leg. There was some ill-feeling amongst parents but it was generally accepted that the uneven surface had been the cause of the injury and, in the following season, we played our home games on the nearby Colliery Welfare ground. We won every league game that season and drew one cup game.

Frank Forster was a stickler for kit to be properly washed and ironed. Rucksacks were provided for each player to take home his strip for laundering then return it to school on Monday mornings. Boots were inspected before each match and anyone whose boots had not been cleaned and polished was given a thorough telling off. The approach was severe but I have no doubt that we were the best turned out team in the league and looked and felt superior in our white shirts, black shorts and red stockings. At times I felt a bit sorry for opponents who had to wear faded kit and socks of a variety of colours.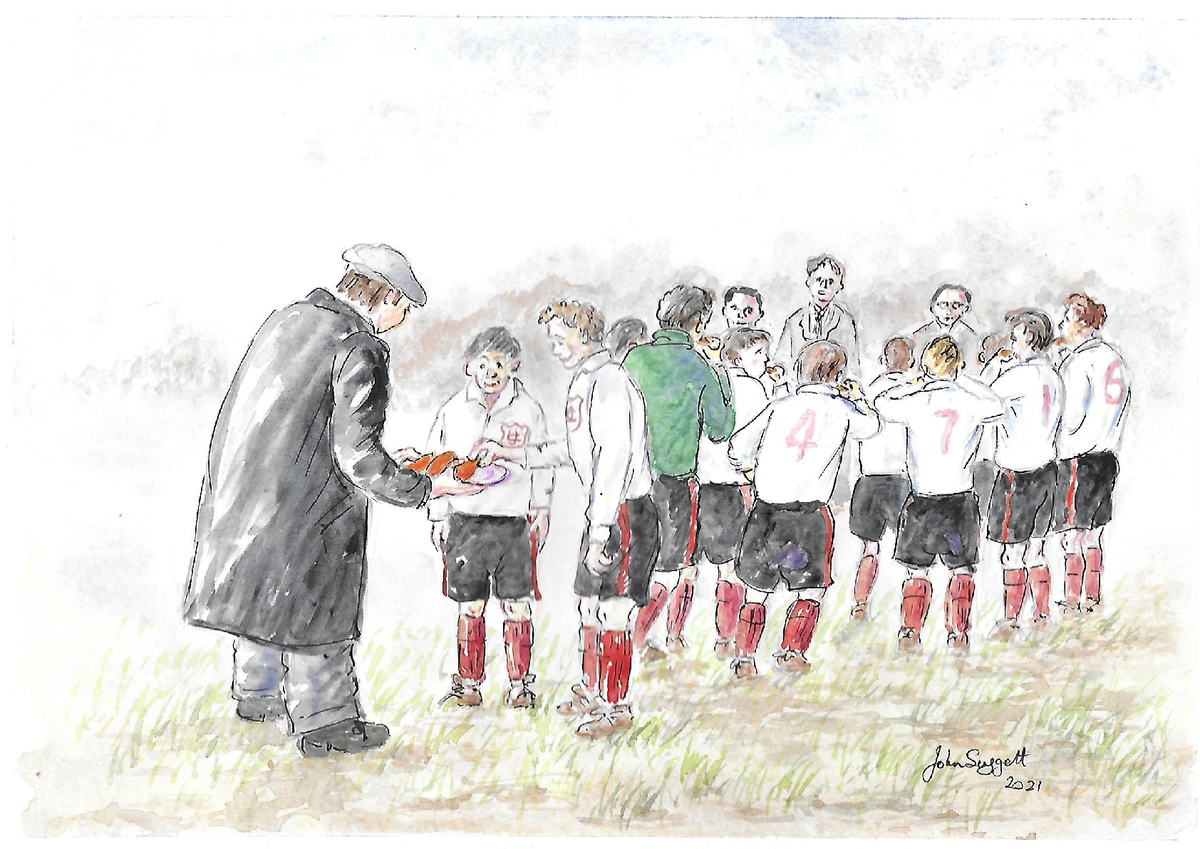 One of my outstanding memories of that season is of a day in Birtley when, on a cold, grey, windswept morning, we played against Ravensworth Terrace school. The home team, playing uphill and against the powerful wind in the first half, found themselves losing by six goals to nil at half-time (five goals to Andy Storey and one to me). They probably hoped for better things in the second half so they must have been devastated when, almost straight from the kick-off, Andy battled uphill against the wind to score again. We won by seven goals to nil.

We won the league and cup trophy that season then had to play against a Chester Moor school in a two-legged final to determine the overall league champions. Following a goal-less draw on our ground, two coach loads of parents, friends and relatives travelled to the second match. A huge crowd for a school match saw a very competitive game which was won by a single goal scored by our inside-left, Geoff Humble. I remember being hoisted up, along with the rest of the team, to poke our heads through the open top of the coach to wave to people as we drove into Washington. We were taken to Sacco's shop where the cup was filled with lemonade and passed around the team. At school on the following Monday morning, the cup was ceremoniously taken to each classroom by the whole team and every pupil was encouraged to drink from the trophy. Money was raised in various ways by parents and friends – I recall Keith and I going to houses in our street to sell raffle tickets. The monies were used to purchase individual trophies for each player and were presented at a celebration tea by Sunderland AFC'c Welsh international centre-forward, Trevor Ford.

I was made team captain at the start of the following season. Keith continued to play at right-half but I was selected to play at centre-half-back. New strips were provided and we had almost as much success as we'd had in the previous season. Keith and I were proud to be selected to play for the district team, Chester-le-Street Boys.

Frank Forster's success with school football seems to have been founded in his ability to organise players and to instil teamwork and discipline. He coached full-backs and centre-halves in operating a pivot system of defence. He 'drummed' this into players until everyone knew exactly what was expected of them. He explained, demonstrated on blackboards and on the pitch, how wing-half-backs and inside-forwards had to get forward and back to support attack and defence and to supply wingers and centre-forwards with lots of passes. He demanded that we adhere to his strict instructions for marking opponents at throws-in and corner kicks. He introduced tactics to be adhered to at our throws-in. He emphasised that football is a passing game and that the ball travelled faster when kicked than we could run with it. He showed us how to make a wall-pass and we practised it regularly. His doctrine was : "Beat a man, draw a man, and pass!" His success was indisputable and I regret never having asked him, in later years when I might have had the opportunity, where he had acquired his coaching ideas. What I learned from him as a youngster remained the basis of my own playing and coaching activities later.

When he watched inter-school matches, Frank Forster always stood near his goalkeeper, not on a touchline where most teachers and spectators stood. He 'moved on' anyone who tried to stand near his goalkeeper and, from that position, issuing directions to defenders was easier than from the sidelines.

We travelled to away games at Birtley and Chester-le-Street on service busses because none of our families owned cars at that time. We would meet Mr Forster at a designated bus stop in Washington and he would travel with us to our destination. He paid our fares – I don't know if the money came from school funds or his own pocket! – and I would smile as the bus conductor 'reeled off' a stream of tickets from his machine.

My dad attended a lot of games and I remember an occasion when, whilst accompanying Keith and me to the bus stop, he told us to wait while he went into a fruit and vegetable shop. He emerged carrying a bag of oranges. I was surprised when, at half time in the game, dad came towards us as we were assembling for Mr Forster's team talk carrying a plate of orange segments which he offered to all of the players and reserves. Like many miners he often carried a pen-knife so he must have put a small plate in his pocket before leaving home so that he could provide half-time refreshments for us by cutting up oranges. He provided such refreshments for several games and his example was soon copied by other dads presumably after collaborating with each other and deciding to take turns.
Parental support for competitive football at junior school level seemed to be popular from the early 1950s onwards and the teachers who gave up their time to coach and manage school teams were well-respected.
John Suggett 2021