Cpl Charlie Simpson MM
The Simpson family lived in the Old Hall when Charles Beresford Simpson, or Charlie as he was always known, was born on the 6th June 1916. Charlie left school at 14 years of age and went to work in the nearby Glebe Colliery. He joined the 8th Battalion of the Durham Light Infantry (DLI) at the outbreak of war in 1939.
In the summer of 1943 the DLI was part of an allied force invading the German held island of Sicily and it was near the town of Acireale where Charlie won the Military Medal. The citation states:
The Company was held up by intense machine and mortar fire and snipers....with no wireless communication, Lance-Corporal Simpson
as Company Runner made the three mile exhausting journey with messages to Headquarters four times in one day. This was despite
the streets being swept by machine gun fire and snipers had not been cleared from the houses.
Sadly, Charlie did not live to have the medal formally presented. By now, having transferred to the 9th Battalion, he landed in Normandy on D Day 1944- his 28th birthday-, and was killed in action a few days later. He had been married to Gladys Bettney for less than a year. He lies in the Bayeux War Cemetery, the largest Commonwealth cemetery of the Second World War in France.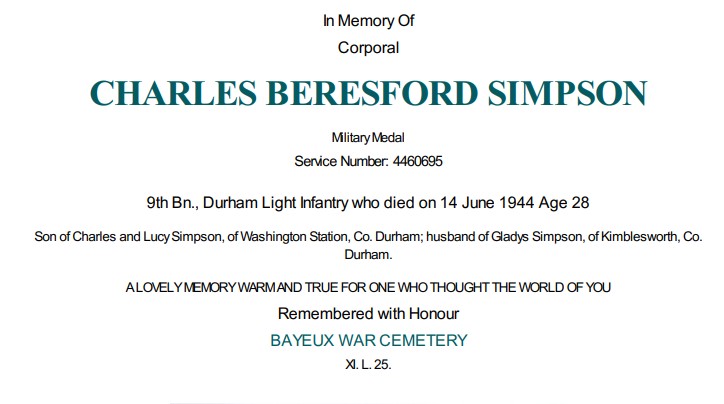 He was remembered by his brother, James, in the following poem.
Beneath the Norman soil you lie,
Looking upward to the sky,
Beside you are your pals who fell,
Marching bravely through that Hell.
Oh brother as you sleep tonight,
Amidst the coldness of the night,
Do you hear the wind and rain,
Or the whispering of the slain.
Do you hear the thundering guns,
Or the crying of the Huns,
Do you hear with deep regret,
Your comrades curse the mud and wet.
Hear the tanks go roaring by,
And the aircraft in the sky,
In your bed beneath the ground,
Do you hear the bugle sound.
Little children laugh and play,
So full of life, of joy so gay,
Do you smile there at their glee,
You died that they might be free.
High above the birds still sing,
Here and there the church bells ring,
Do you hear that joyful sound,
Lying there beneath the ground.
Sleep, oh brother, in your Norman grave,
Amongst the friends, who died to save,
This world from the terror of the Hun,
Who ruled with terror and the gun.
Sleep oh brother, sleep and rest,
You were so brave, you've done your best,
And we who loved you nightly pray,
We'll meet again on Judgement Day.
Friends of Washington Old Hall Newsletter May 2020